We had a great weekend at home.

We swam,

I cleaned, we swam, I did laundry, we swam, I mowed, we watched the new Footloose (L.O.V.E) and we swam. Seriously, it's 100
º
+ here so being in the water is really the only way to go. Yesterday, my friend Jill and her son, Gavin, came over to swim and we
had so much fun. They plan on coming back over on the 4th with Jill's husband.
This is a great week in my eyes. I work two days, get to spend Wednesday off with friends and family celebrating Independence Day, work two days and then we are headed to Texas to spend time with family. Our cousins are coming to Amarillo for a baseball tournament. I have heard how fun it is to watch these two all-stars play ball so I am really looking forward to it. I also can't wait to see my aunt Peggy and cousin Stacy. We will be having a long overdue visit!
We have some exciting news, we are going on our first official summer vaca as a family of four! We are flying to Minnesota to see our friends the Van Bakels at the beginning of August. Tyler has already had so much fun planning the trip with Andrew. We have Mall of America, horse races, lake and outlet shopping on the agenda...needless to say, we are all so excited! Best part is we get to catch up with dear friends that moved way too far away and love on their six month old baby boy! :) This will be both my little cowboy's first plane ride. Any advice would be greatly appreciated!


Today marks day #1 for
July's Get-Fit Pact!
My sister & I came up with this yesterday. We have vowed to workout at least 30 minutes for every week day in July and eat healthier. We both know how to eat right, it's just sticking with it. I got up this morning and ran for 25 minutes and concluded with some ab work. Nothing too major, just trying to get more fit. My sister plans on doing lap swim today. We are going to check in with each other every evening to keep each other accountable. Anyone else want in?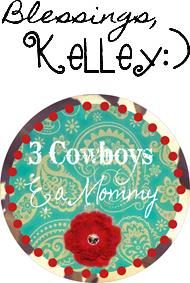 Push yourself a little harder, in all your efforts. When we stretch ourselves even a little bit, we feel more alive and ready to take on the world. So go on, work a little harder — try a little more. Each day you'll get better and better.
– Daily Kick in the Butt